Get Our Free Primer
"How To Start A Vendor Booth"
Topics Include
Choosing the right flea market
Sourcing Your Merchandise
Setting Up – Equipment
Merchandizing
Marketing Your Booth
Legal Requirements
Accounting
I want To Learn  about Starting A Vendor Booth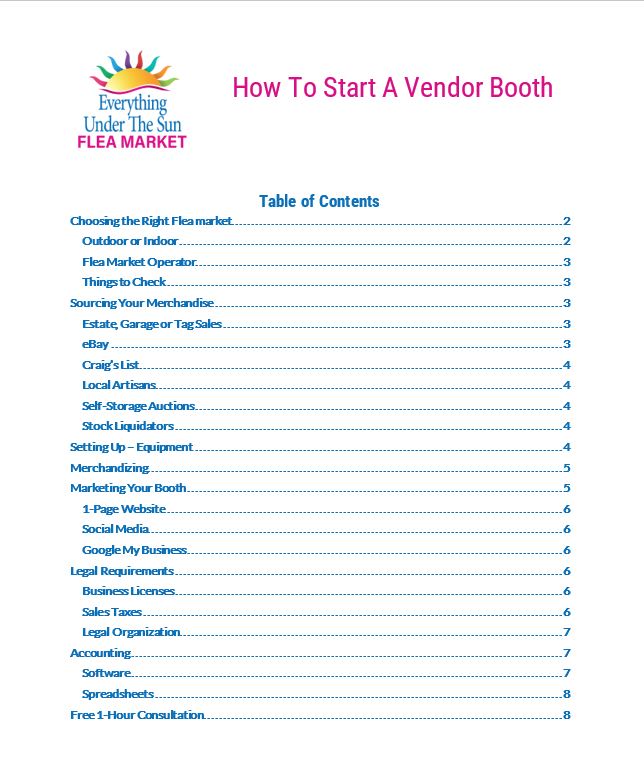 Marianne Gillespie
Clean, indoors and wonderful shops. To name a few Accessory Lady (purses, small to large), tote bags, jewelry, scarfs, tops and other delightful items; Silver Connections, chains, rings, pendants, all 9.25 silver and the most beautiful hand crafted American Indian jewelry; A shop with all things golf, golf shirts, jackets (both men and womens), golf bags, balls and other interesting items golf related; Avon; Wig Shop; Teeth Whitening; Paper Rose with soaps, antiques, new things and old things. There is a consignment area in the back of the store that sells beautiful dish sets, kitchen items, and much more. Many other goodies. I love this place.
Dedi Hutchins
Fun place to visit. Always Great deals. Wonderful variety from wigs to name brand shoes to fudge. Climate controlled! Very clean. Lots of fun!
Michele Michael
So much fun. Great way to start the day. Must visit Coastal Bohemian eclectic Boutique of shabby chic, vintage and antique ,beach signs and painted furniture. There is also a natural remedies and beauty care vendor Natures Caress that is a must see stop in and buy everything to stock up for gifts and yourself. Ask for Julie. She's the Brit.